I promised...so here you go!!!
I promised pictures, so here they are!! Tons of them...
This is the first row of the Checkers Blanket. It think it'll be nice when I am done, but it just takes forever and gets BORING!

Here are the results of my Kool-Aid Dying Adventure. I love the blue, but the green leaves something to be desired....It'll work though for a Marsupial Tote?

This is the back of Little Black Top. I accidentally bought the Classic Elite Lush (oops!) instead of the Provence. I like the lush--it lives up to it's name.

Thirft Store Finds!!! An (almost) complete set of needles!! I needed sizes 1-4 and I got them--along with tond of extras. You never know when you'll need extras!

Another Thrift Store Find--$.60 for Merino Wool!! Yippe!!

Yoda was helping her mommy take pictures....isn't she cute? Under Yoda is more $.60 Merio Wool!!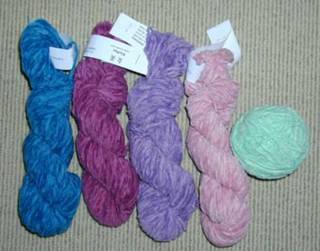 The Cotton Chenille I bought from
Numei
for $1.95 a skein. I think the colors look awesome. We'll see how well they turn into flower washclothes from
Weekend Knitting
.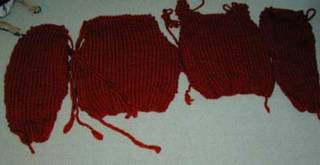 I just need to block and sew up
Football Widow
. The way it has been chilly here in Chicagoland, I may be able to wear it now!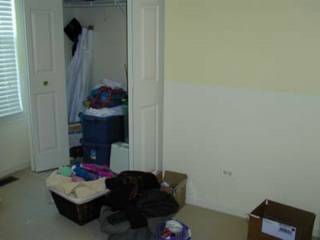 Shot of the craft room. Right now it is more like a repository for my crap. That will all change soon. I need to pain the ceiling white, the walls this awesome shade of blue and it will be perfect....then I need to think about shelves....hmm...

The other half of my "cozy" craft room. I don't like to think of it as small (it may hear me....)

I hope all these pictures satisfy you!! Tonight is grocery shopping--my least favorite thing to do--so I don't know how much knitting I may accomplish.